At Stan Paul Jewelry, we carry all sizes and shapes of diamonds - 100% satisfaction guaranteed.
For centuries, men and women have found that the sparkle and brilliance of a quality diamond expresses their deepest emotions and symbolizes their enduring love. Yet, with many beautiful diamonds to choose from -- and no two alike -- how do you pick the right diamond while spending wisely?
The 4Cs, along with the guidance of a trusted jeweler, will lead you to the answer.
Trusting your jeweler is half the battle. Follow these guidelines when purchasing your diamonds.
Trade-ins? Always.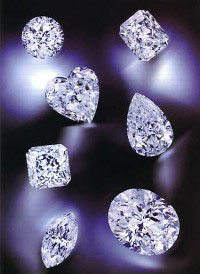 We are sure that the value of your diamond purchase from Stan Paul Wholesale Jewelers is the best you'll find. So, we'll apply the purchase price of your diamond toward a larger diamond at any time.
We only sell diamonds that we would be happy to accept as a trade in the future.
For more information about purchasing diamonds, visit the Gemological Institute of America at www.gia.edu and the European Gemological Laboratory at www.eglusa.com.