Romantic Ways to Give a Diamond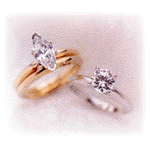 Serve her a very special breakfast in bed...a silver tray with her engagement ring.
Wrap a diamond ring around the base of a candle, then have her light the candle before a romantic dinner for two.
While attending a ball game, have a plane fly over the stadium and write, "Will you marry me?" in the sky. Then place the diamond engagement ring on her hand.
Place her engagement ring on the finger of a new pair of gloves.