For Human Resource Directors, Managers, or Organization and Association Officers
Your employees and association members can save 50% to 70% off retail, starting today!
Hundreds of organizations and associations are already taking advantage of this fantastic offer. It's easy, and it costs you nothing - no contracts, no paperwork, no obligation, no membership fees.
Learn More About Our Service Awards Program
Learn More About Our Corporate Rewards Program
How does it work?
We will furnish you with Stan Paul Premier Customer Program brochures to distribute to your employees or members.
This exclusive offer is a free, year round unique employee benefit program.
Our Goldsmiths are ready to accommodate and service your employee's jewelry needs immediately.
Contact us now for more information.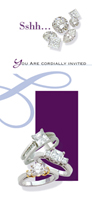 Or, you can easily download and print the Premiere Customer Card now by clicking on the image below.