Specializing since 1978 in written appraisals and insurance replacements of diamonds and gemstones.
Upon request, we will provide an appraisal for insurance purposes for items purchased through us (and for a modest fee for items not purchased through us). You should give this appraisal to your independent insurance agent for coverage. We recommend insurance coverage on diamond rings and items of significant value to protect against loss or damage.
It's time NOW to update your jewelry appraisals.
With the increasing prices of diamonds, gemstones and precious metals, we strongly recommend that all your personal jewelry be re-appraised at current replacement values now, and every 3 to 5 years hereafter.
Call us at 978.531.7766.
Your jewelry will be appraised by a graduate of the Gemological Institute of America's Diamonds course, using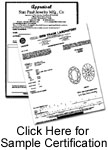 the GIA Grading System.

The GIA is the leading independent trade laboratory in the U.S. and is regarded as the ultimate authority on diamonds worldwide. They are totally independent and not affiliated with any jewelry operation.

The GIA is an organization which developed the standardized system of diamond grading. You can be absolutely sure without having to rely on the jewelers integrity that the diamond you are purchasing is graded accurately. With a G.I.A. or EGL certification from the European Gemolocial Laboratories, you have the unbiased final word on your diamond. Your certification will show you detailed information, including the exact measurements of the diamond and a map pinpointing its tiny inclusions.

For more information, you may visit the Gemological Institute of America at www.gia.edu and the European Gemological Laboratory at www.eglusa.com.