Jewelry Repairs
All your jewelry repairs are done by our professional master goldsmiths with over 25 years of experience. We inspect all jewelry upon completion, so you can be sure that your quality repair is done right the first time. View our design and repair slide show below.
Stone Setting
Custom Repairs
Wax Carving
Pearl Restringing
Silver Repairs
Estate Jewelry Repairs
Use this coupon for 20% OFF your next jewelry repair!
Print this coupon and bring it with you the next time you visit Stan Paul Jewelers.
Click here for a printer friendly coupone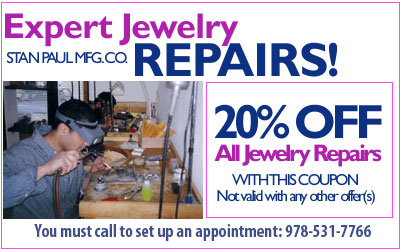 2010